By Benedict Tan and Krystin Foo, Assistant Psychologist, Centre for Positive Recovery.
We asked Assistant Psychologists, Benedict and Krystin how a day at Epworth Centre for Positive Recovery (CPR) looks like.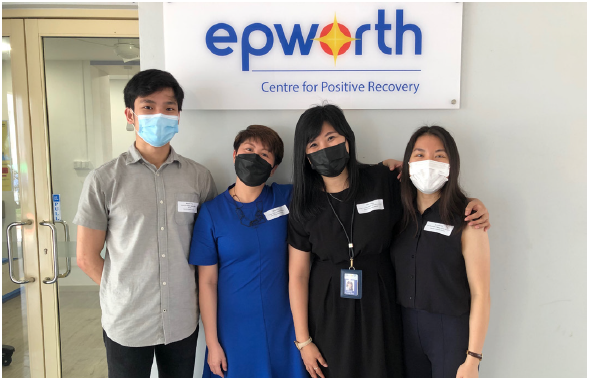 Pictured (from left to right): Benedict Tan, Diana Koh, May Chong, Krystin Foo.
Introduce yourself and your role at Epworth.
Many young persons, and adults have emotional and behavioural needs. As assistant psychologists in CPR, our work involves helping children and young people better understand and manage their thoughts, feelings, and behaviours. We also perform other administrative work to keep our programmes running while liaising with internal and external stakeholders. Our centre also spearheads Epworth's efforts toward becoming a Centre of Excellence in Trauma Care.
How long have you been in this department?
We joined CPR in mid-2021 to prepare the centre for its informal opening in August 2021, and its official launch in March 2022.
How does a day at CPR look like for you?
Since moving into our new office at 472 Jurong West, our mornings start with hunting down our favourite neighbourhood cats. Here is a picture of our two friends.
After the self-administered pet therapy, we typically have internal meetings, case discussions with other professionals, and clinical supervision with our external consultants. Session planning and administrative tasks take up the remainder of our time before we head out for lunch.
Being new to the neighbourhood, we have been getting acquainted with the nearby coffee shops and following up on lunch recommendations from our colleagues over at Epworth Literacy.
"Very nice" – May's review of Ban Mian near 471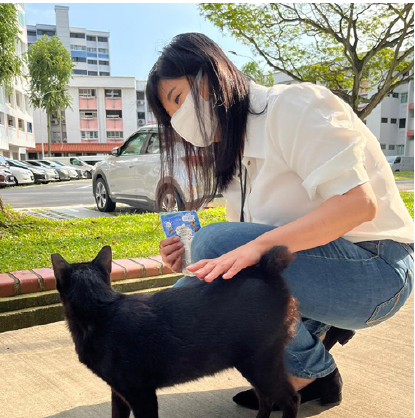 Pictured: Kiki (the cat) and May, our Senior Counsellor (not the cat) 
Afternoons are the prime time to meet our clients as the school day is over. Our sessions could involve travelling to our clients' homes or seeing them at our centre. As we work extensively with caregivers, we also arrange sessions in the evenings to accommodate their work schedules. The ride home is usually a tiring one where we gather our thoughts and consolidate our session reflections.
What excites you about what you do?
Here at our centre, we try to celebrate even the smallest of successes each day. As the journey to overcome trauma is a long one, these little milestones keep us going. Apart from payday, the very best days are when we pick up new skills to better engage and support our clients.
Describe the impact of CPR in one word!
Ongoing. We will let you know more after our programme evaluation is complete. Do check in with us again in a few months!
What is an area of growth that you hope to pursue/achieve in this area of work?
Like most other assistant psychologists, we plan to eventually pursue further studies that will allow us to become licensed psychologists. We hope to build up proficiency in our work, and continue forming positive connections with our community, one client at a time.
About CPR
Epworth's Centre for Positive Recovery (CPR) provides specialised therapeutic services to support children, youth, and caregivers in their mental well-being. In particular, CPR specialises in helping those affected by trauma.
Using evidence-informed approaches, our workers provide counselling, family therapy, and behavioural support to these individuals.
Find out more about what CPR does at: https://www.epworth.sg/programmes-services/centre-for-positive-recovery/